Malvern Cube
FEAST Family Day 2021 is a moveable FEAST and will take place at both Malvern Cube AND Priory Park
Sunday 26th September 11.00am - 5pm
Ages 3-103 and beyond.
£8.50 per person or £30 for a family of 4 (2 adults, 2 children) Under 3's free
Booking in advance is essential!
IMPORTANT: Please ensure that you arrive at Malvern Cube by 12.15pm for our main show 'The Brolly Folk' - we will all Umbrella-parade to Priory Park together for events there later in the day.
Join us for a day of theatre, storytelling, performances in Priory park, adventure walks, workshops and an inspirational Celestial SoundCloud for the whole family to enjoy. This will be a magical day complete with an exciting Umbrella Parade for all. Bring your own umbrella to transform in our umbrella workshop and join us as we parade from the Malvern Cube into the town and to the Malvern Priory Park for a final magical show and Street Dance performance by the magnificent OddStepperz!
Strange Futures The Brolly Folk invite you into the hilarious and magical, cardboard world of the Brolly Folk using poetry, animation, and physicality, to gently remind us of the value of caring about everything, no matter how little or large. 12.15pm
Pif-Paf Celestial Sound Cloud A beautiful digital sound and light installation hung above to create a space where audience discover a galaxy of voice and illumination.
Danny Schienmann The Very Top Story Meet the king who locks up hairdressers, the tree with a very big heart and the blind woman who teaches a hunter how to see with his ears.
Adam Blake Adventure Walks Join Adam on his adventures around the cube grounds. He needs your help to create a completely improvised, never before heard, 100% made up on the day, shiny new story.
About Face We are all stories is beautifully presented by the actors and puppets in a magical space created for an audience of one or two, with audience members moving between the individual pieces.
Fetch Theatre Company East of the Sun Inspired by a traditional Nordic story, "East of the Sun, West of the Moon" is a spellbinding tale of adventure, mystery and romance, featuring a magical white bear, a young girl and a troll. Outdoor Performance.
Daryl Curtiz Oddstepprz Street dance workshop and performance  for ages 6 – 10yrs
Fetch Theatre Company Puppet workshop Artistic director Purvin will teach the methods used by puppeteers to make the puppet come bursting into life.
Karen Johns Umbrella bling-up Workshops. Re-create your umbrella using a variety of craft materials. Let your imagination go wild. Bring your own umbrella if you can.
Umbrella Parade Join us as we parade Jazz style up to the town and the Priory Park led by the Brolly Folk.
This is a completely new and exciting activity for anyone that wishes to join in the fun. Bring your own Umbrella if you can...
This will truly be a day to remember. Malvern Cube Café will be open throughout the event for snacks, cakes and drinks. . .
GET YOUR UMBRELLA GAME ON!
Find Us: maps-directions - Malvern Cube
BOOK NOW: FEAST Theatre Festival event tickets from TicketSource.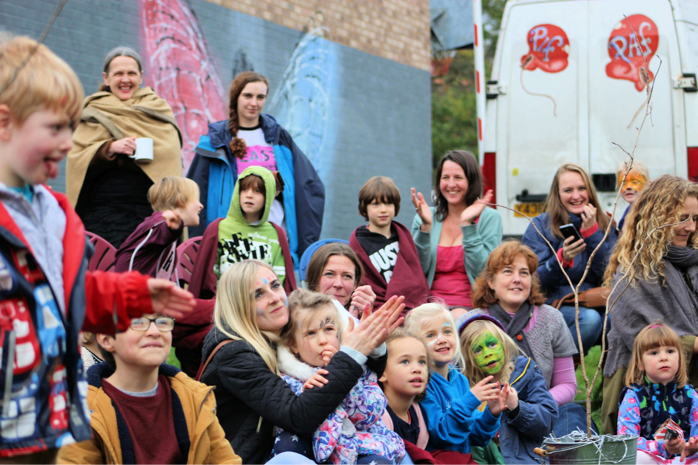 The Coach House Theatre
THE VERY GRIMM BROTHERS Unlocked with Jeremy Fallowfield (gtr)
Sunday 26th September
7pm - 8.45pm
Tickets £10 tickets@uktouring.org.uk and 01684 540366 daytime
Words & music. In the Time that nearly never was, Grimm Ade (poems) and Grimm John (gtr) accidentally lock themselves out of Castle Grimm up the road from you. Heart-warming and funny.
Featuring Lockdown hits The Rule of Six, No Mingling Please, The Dancing Tree, Vaccine, So, The Royal Inoculation, A Digital Christmas, I've Got A Bone To Pick With You, Open Up We're Coming In, We Could Be Happy Here and many more.
'middle-class rap' William Coleman
'so inventive, so funny!' Bridgnorth Festival
'a great mix of poetry, comedy, silliness and wistfulness -  a fabulous evening!' Church Stretton Arts Festival
'tremendous performance. Wow, Stormzy at the Tree House! A privilege and a treat for all' Pure&Good&RightPoetry
'Edgy and enchanting. A passionate and heartfelt journey into the magic of our everyday lives.' Dan Bowker
'Brought a little tear to my eye' Shona
'you move real nice' B.Zephaniah
Unlocked tells of their lockdown fears & woes & washing facilities, the relief of pilates, Boot Camp, raised beds and how they unlock Castle Grimm's secret. Told through poems, songs, music and Real Acting.
The Very Grimm Brothers are Adrian Mealing, a Malvern Poetry Slam Champ who sings à cappella with Men In General, A Fistful of Spookies and The Spooky Men's Chorale (Aus). And John Denton (gtr) who wears several musical hats including his John Denton's Midnight Band hat.
Jeremy Fallowfield is crisp, fresh, surprising and still quite new. He's happiest when seeing how far he can make his steel string acoustic guitar play old tunes & new tricks inspired and influenced by players such as Michael Hedges, Don Ross, Andy McKee and Antoine Dufou.
Find Us: How to find us (coachhousetheatre.co.uk)
BOOK NOW: FEAST Theatre Festival event tickets from TicketSource.